Sepro Group welcomes its new CEO, Charles de Forges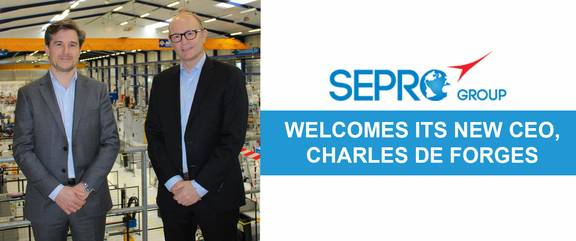 Charles de Forges brings almost 20 years of experience in senior management roles at business-to-business companies to his new position as the executive head of Sepro Group, the robot and automation supplier headquartered in La Roche-sur-Yon, France.
"We took our time in finding our new CEO," said, Eric Radat, President of Sepro Group, "but, in Charles de Forges, we have found the right person to help guide Sepro into the future. He has a dynamic personality, and he is very customer-focused. He has experience in managing businesses both large and small, and he understands the special nature of a family-owned business like Sepro. He also has an entrepreneurial spirit, having started his own 3D printing company, so he knows what it is to dare and overcome challenges. In short, I trust his leadership.
With a graduate degree in Mechanical Engineering degree, de Forges has gained a wide business experience in industry in sectors such as packaging, luxury, cosmetics, automotive and aerospace and has worked internationally in Europe, the USA and Brazil.
Download
Stay connected
Receive a summary of our news and events every month