Sepro Completes Redesign of its Success Range; Three Models Offer Optional Five-Axis Operation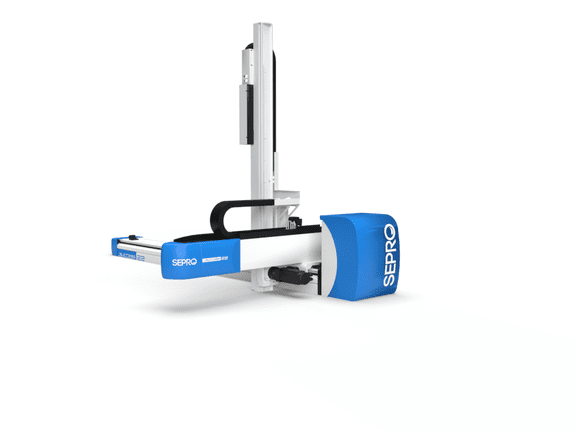 Having demonstrated a prototype of a new, general-purpose 5-axis robot (the Success 22X) at the K 2019 trade fair, Sepro Group has now finished the redesign of the entire range, which can serve injection-molding machines from 20 to 700 tons. Three of the units can be optionally equipped with a 2-axis servo wrist co-developed with Yaskawa Motoman, to create a 5-axis Cartesian design that brings both flexibility and economy to the market.
Originally introduced in 2011, the Success Range has become Sepro's best-selling robot family. For the first time, the speed and precision of 3-axis servo operation became available to molders with simple pick-and-place applications and simple downstream operations. Success units were the first truly affordable robots to offer enhanced capabilities, with all of the quality and reliability for which Sepro is well-known.
In addition to aesthetic changes, including sleek, streamlined styling, the latest Success robots have an extended standard demolding stroke and, for the first time, a long-demolding (LD) configuration is available that adds 200mm to the stroke. In certain applications, this can allow a robot of a given size to serve a higher-tonnage molding machine than previously possible.
In some models, the maximum horizontal stroke has been lengthened, and a telescoping vertical arm is also available to extend that movement by as much as 200mm.
Download
Stay connected
Receive a summary of our news and events every month