Centralized data & modular architecture to maximize performance.

This cell is a demonstration of Smart Automation Systems, a modular and scalable solution for your process integration, downstream your IMM to the AMR.

Production: sailing boats
IMM: Milacron 110T
Robots: NEW 5X-15 and 6X140.2
Cycle time: 4.5 sec
Mold: 1 cavity
Controller: Visual 2 with Robot Control Integration in the IMM
All equipments from the IMM, robots and peripherals, are controlled by the new centralized Sepro's controller : Visual+.

This allows real-time Data Acquisition of your whole process into one unique Dashboard for complete traceability and all OEE indicators fr your downstream operations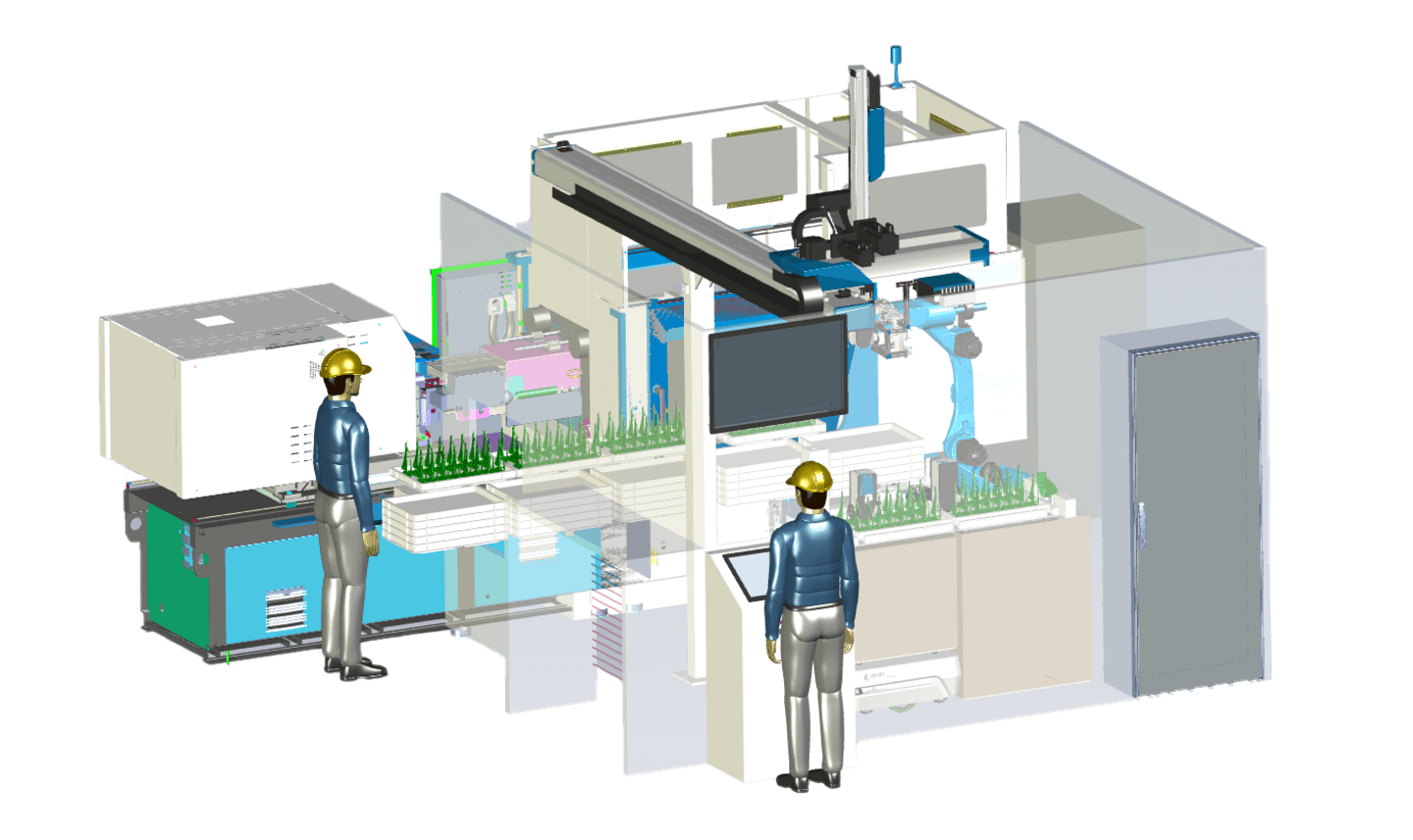 Smart Automation Systems maximizes the performance and integration of your moulding process.​
Based on a modular architecture and centralized Sepro controller:​
Links to the Press and coordinates complex movements of Robots and all Peripherals. ​
Optimized process development, production quality and traceability thanks to relevant KPI and data analysis thanks to its connectivity.​
Unique central HMI for a better user operation experience​
Each peripheric considered as an HW/SW module with its defined inputs/outputs interface​
Reduced footprint with a single cabinet​.
​
Smart Automation Systems: the intelligent automation of your downstream press operations around a single central controller, for optimum efficiency of your production tool.​
Cell 3 - Step by step
Cell 3 is producing Sailing Boats with following phases : ​
The Milacron press is molding the boat in 2 separate parts : the hull and the sail. Sepro and Milacron logos are molded on the sail.​

Cartesian robot 5X15 takes the 2 parts out of the press (Y-free mode). ​

6X140.2 robot takes the hull in the 5X gripper, and then the 2 robots are working together to assembly the boat (sail is putted in the hull).​

6X robot takes the assembled boat kept by the 5X and then pass over inkjet marking, printing QR Code on the fly, allowing to connect to a cloud server where Production Data of each boat are stored.​

6X presents Boat in front of a Station equipped with 2 Pneumatic Probes to get the height of the boat. This data is stored on the Cloud for production traceability.​

6X places the boat in the Tray to fill it.​

Once Tray is full, and if e-Cobot AMR is present, Parts Tray is pushed by 6X on the AMR.​

Once Tray is present on AMR, it goes on a mission to Stand to distribute Boats. Mass measured by Scale on the AMR allows to determine if the tray is empty or not, to go back in the Machine.​

When empty Tray is back on the AMR, 6X picks it up and places it on stack of empty trays on bottom Conveyor. Once loading Station is empty, 6X picks up an empty tray from stack on the bottom conveyor​.

Special cases : if the AMR is coming back with remaining pieces on Tray, or if Tray is full of boat without presence of the AMR to evacuate it (relieving this loading workstation), these Tray can be respectively taken and putted on the top conveyor, in order to evacuate these Tray and distribute the boats.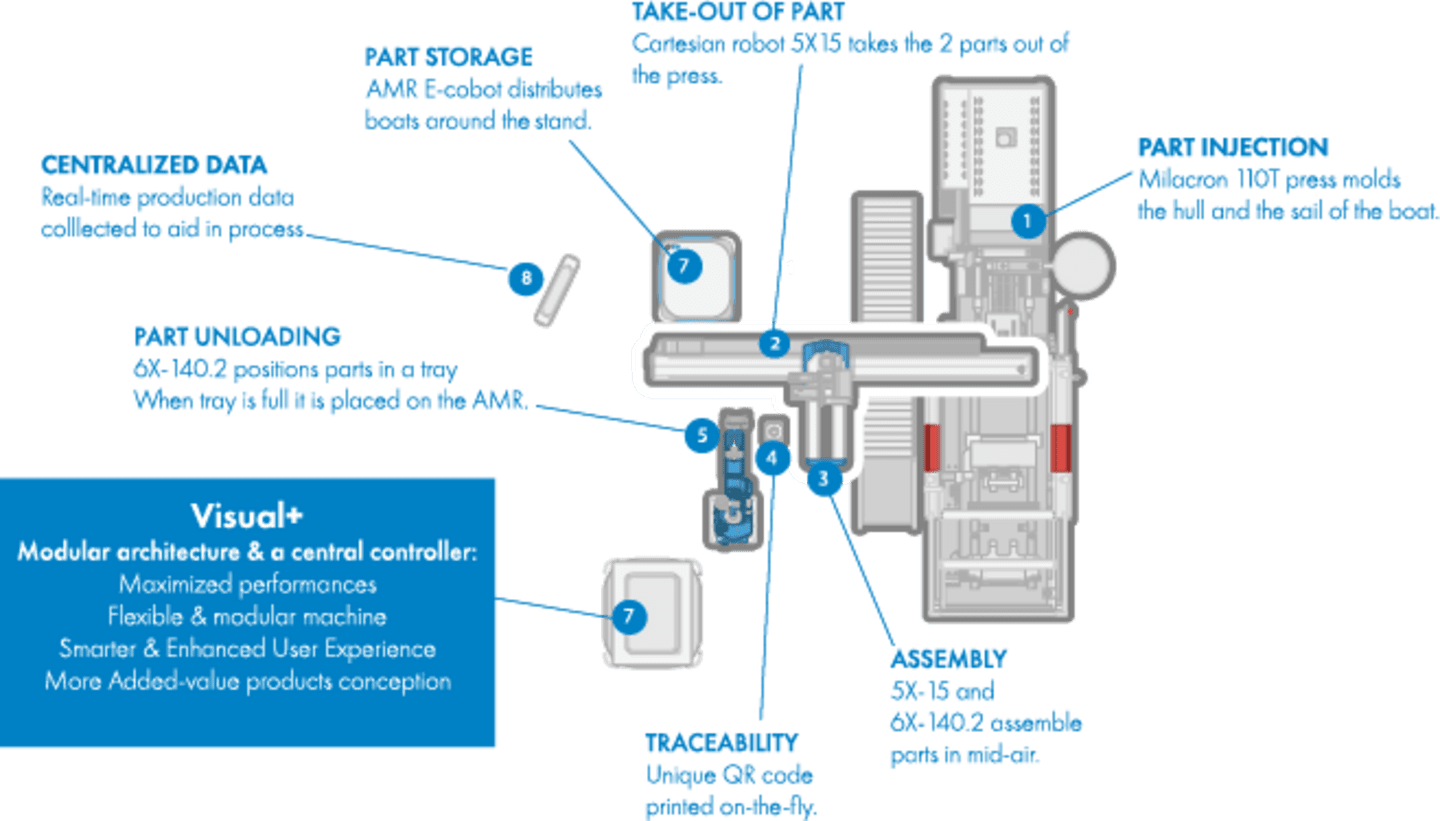 Sepro Group innovation
To meet our customers' ongoing needs for performance and complete integration, we continue to innovate and are deploying Smart Automation Systems. ​
A new modular architecture with a single central controller.​
Our solution approach: ​
Centralizes data & communication with higher-level supervision systems​

Generate relevant Key Indicators for Operations & Management to improve Quality, Traceability and Maintenance​

Data used locally and remotely for monitoring, troubleshooting, and shared with external management tools​

Web-based central HMI for a smartest and enlarged user experience operation​

Links to Press and coordinates complex movements of robots and all peripherals​

Optimize Functionalities and Flexibility, improve Process Development ​

Reduced / Minimized Footprint by centralizing the Control Elements in Single Cabinet​

Scalable solutions in order to adapt with your growth ​
As Robotization Leader of plastic injection molding processes in most industries, we understand expectations of injection molding manufacturers in more than 50 countries. ​
With 50 Years of experience, we continue to provide you with turnkey solutions for complex automation, including handling, quality control, packaging, and many value-added operations on molded parts.​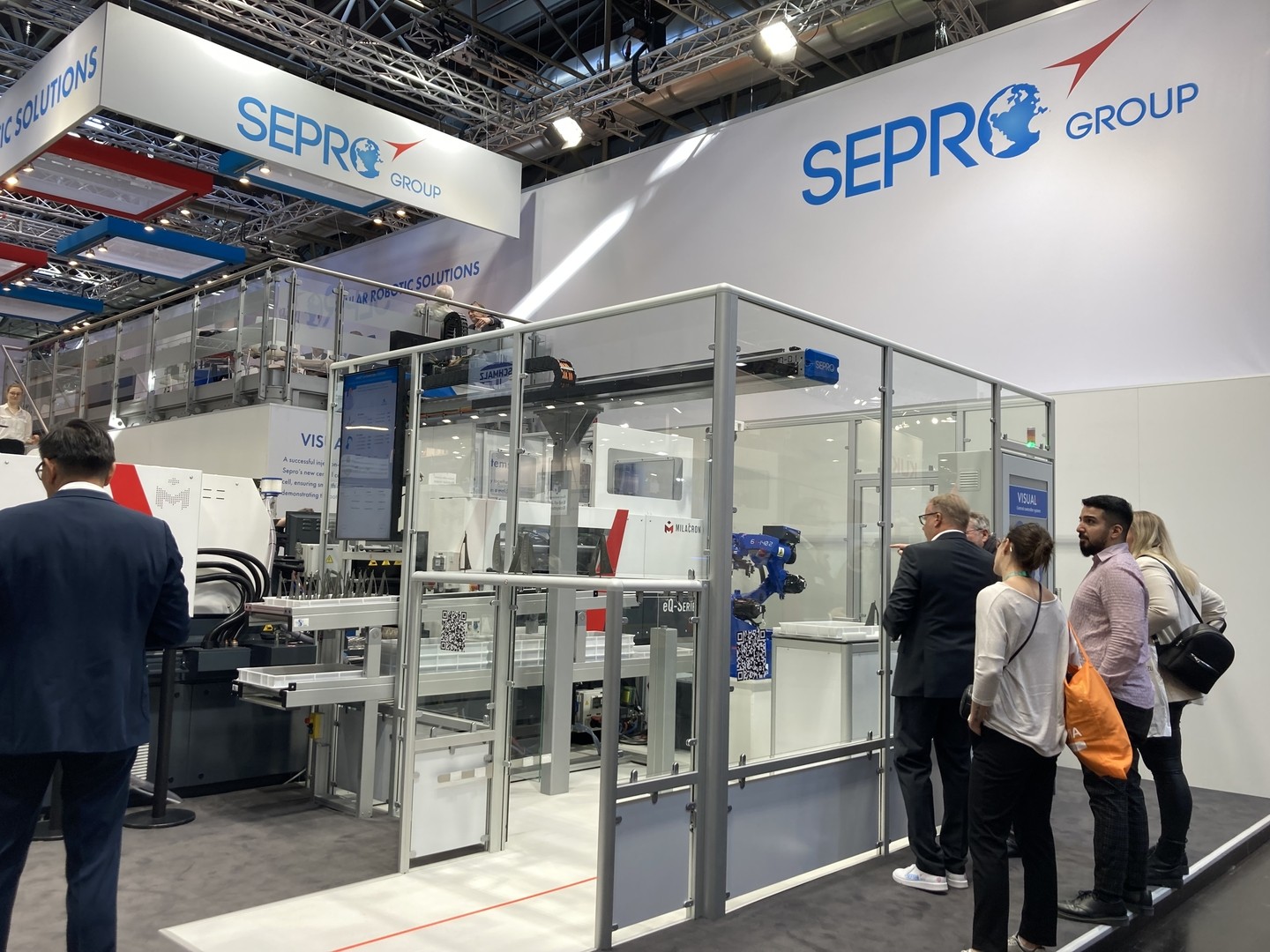 Learn more about the future of automation
Contact our sales team
All fields are required
How can we help you?
The information collected by SEPRO ROBOTIQUE is processed electronically in order to set up commercial relations between you and SEPRO ROBOTIQUE's Sales Department. Data points collected via this form are required except those marked as optional. Data recipient is SEPRO ROBOTIQUE's Sales Department, the data controller. Your data will be kept for the time necessary to process your requests. Pursuant to the French Data Protection Act of 6 January 1978, as amended, and the GDPR, you have the right to access, query, limit, transfer, modify, correct, and erase your personal data. You may also object at any time to the processing of your personal data. You can exercise these rights by sending us an e-mail to the following address: dataprotection@sepro-group.com or by writing to SEPRO ROBOTIQUE SAS, Henry Bessemer Street, ZI Acti-Est, CS 10084, 85003 La Roche Sur Yon, and including a copy of their signed identity document.