K's Challenge
The control software that Sepro has been developing is intended to be hardware independent. Not only can a single HMI be used to govern operation of multiple robots and peripheral equipment (conveyors, assembly/joining/marking systems, quality-control devices, packaging machines, and more) but essentially any HMI can be used. To improve the user experience and make it easier for operators with limited technical skills to work effectively with its robots, Sepro has been benchmarking well-known consumer digital devices - like smart phones or game tablets - for use as HMIs.
As a proof-of-concept, and to study user reaction to different interface devices, one of the demonstration cells on the Sepro stand gave visitors a chance to choose the HMI they think will give them the most success in piloting a Sepro S5-15 Speed robot through a series of motions.
Choices include a smartphone, an Xbox controller, a Keba KeWheel, a gyroscopic pointer or a pendant controller. Those users who achieve the highest scores for agility and speed had their names entered on a "leader board" for all to see.
Sepro is assessing new interfaces of control, benchmarking consumer digital tools (smartphone, gamepad) in order to:
Simplify use of the machine
Data availability with any device
Smart user experience
Presented as a game of agility and speed, you have the opportunity to pilot a S5-15 Speed robot using several means of control.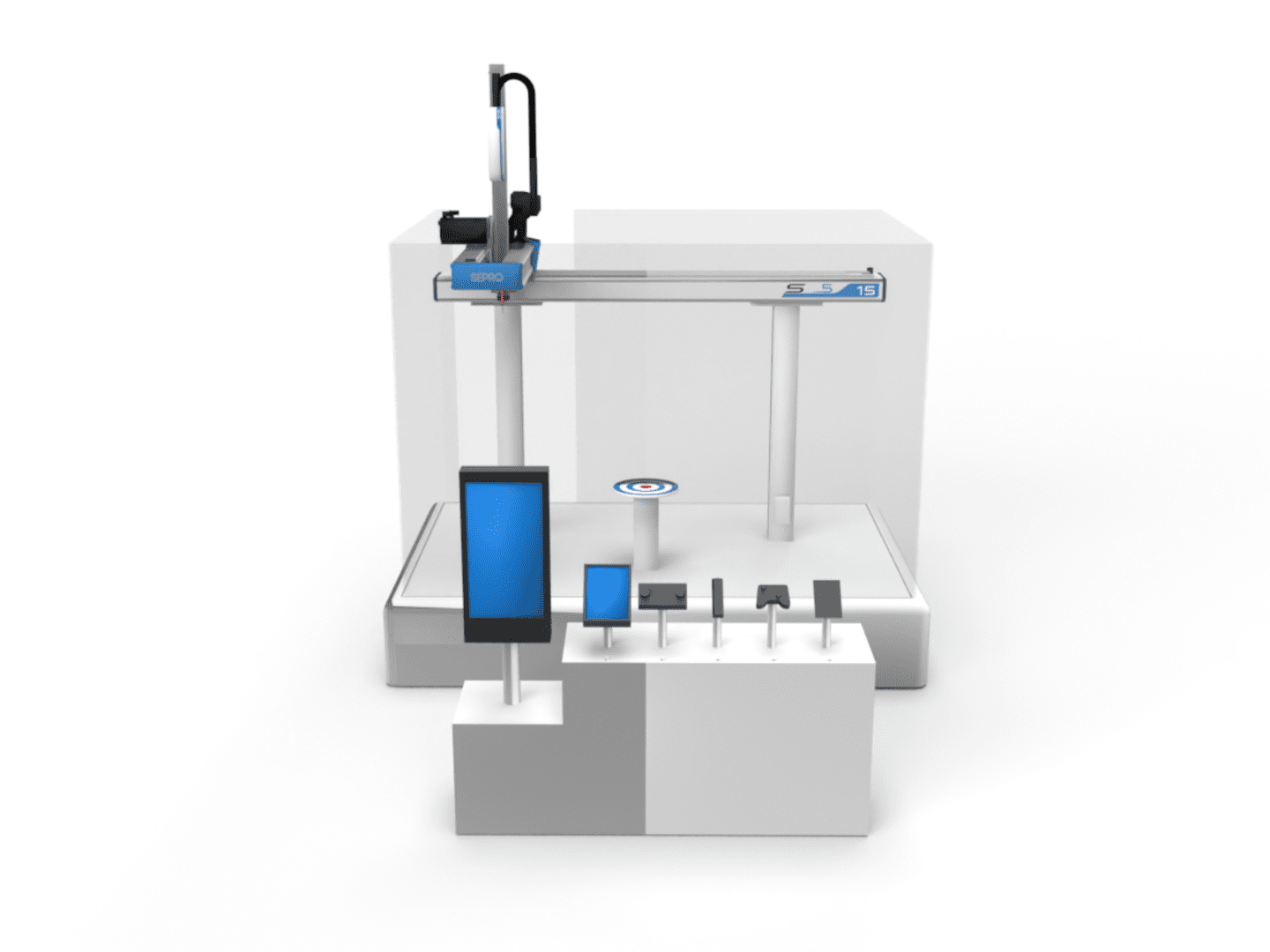 Cell 1 - Step by step
This cell is a game of agility where you are able to move the robot as fast as you can to aim for a dartboard.
To do so, you manipulate the axes of the robots with a variety of sophisticated HMIs presented below:

First, you have to sign-up on a tactile screen controller. The gameplay will guide you through each rounds: ​
First round: the system, better known as Karl selects a device for you.
Guidelines are provided on how to move the robot and you will have 5 seconds to aim for the target.​

Second round: you are able to select another device of your choice to beat the system ​!
(in competition with Karla if 1st round is won against Karl, otherwise versus Karl again).​

Feedback: you rate your experience to receive bonus points.​

At the end of the game, the top of the leaderboard will receive another surprise from Sepro Group!
Co-development with KEBA
This cell was co-developed as a joint R&D project between Sepro and Keba, two highly respected names in the plastics industry.
Combining Keba's abilities as a leading supplier in the robotics and automation market along with Sepro's robotic expertise in the injection molding industry, the two partners have begun driving innovation in terms of user experience on a cartesian robot cell.
To learn more about Keba, visit their website !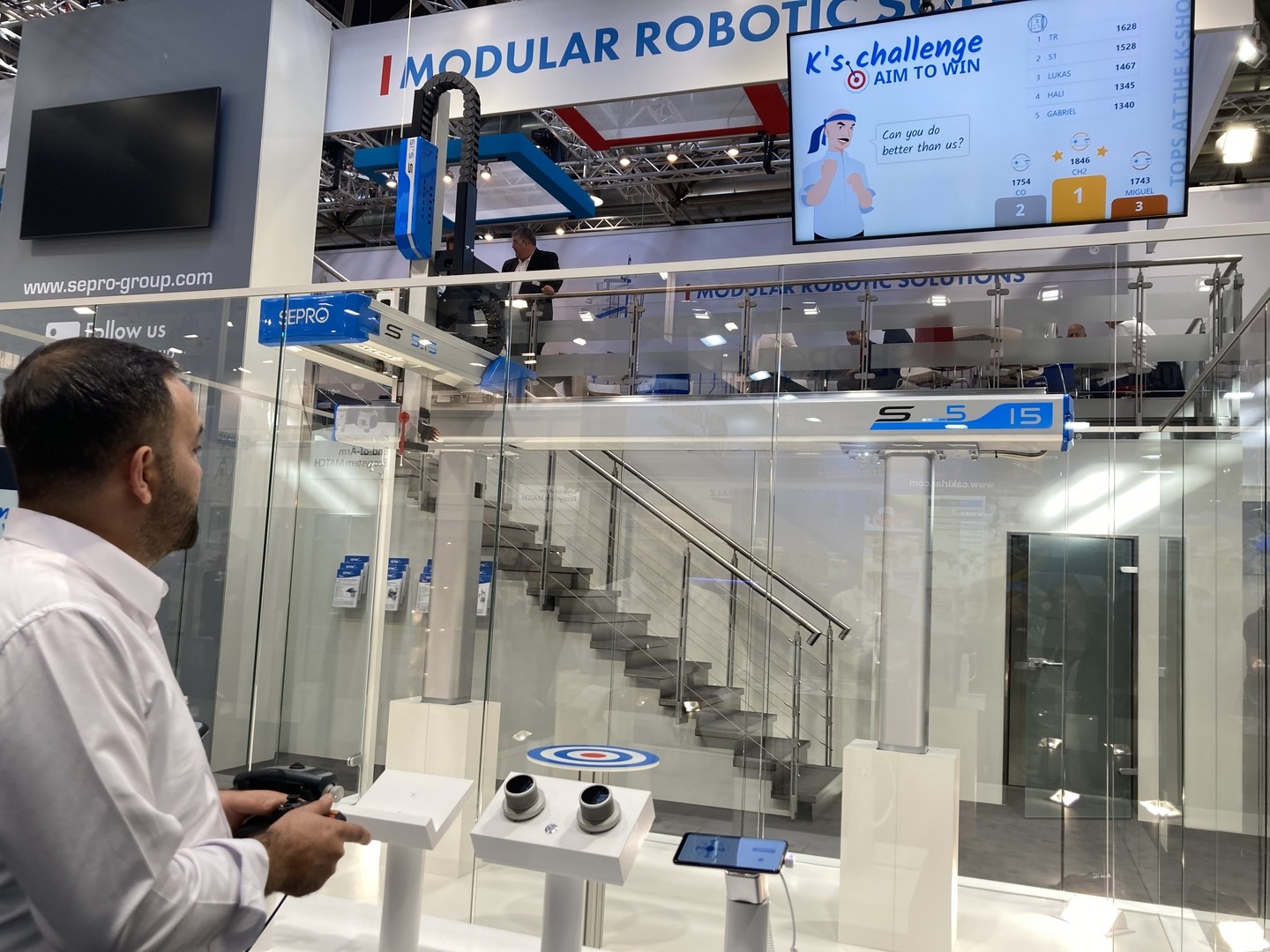 Learn more about the future of automation
Contact our sales team
All fields are required
How can we help you?
The information collected by SEPRO ROBOTIQUE is processed electronically in order to set up commercial relations between you and SEPRO ROBOTIQUE's Sales Department. Data points collected via this form are required except those marked as optional. Data recipient is SEPRO ROBOTIQUE's Sales Department, the data controller. Your data will be kept for the time necessary to process your requests. Pursuant to the French Data Protection Act of 6 January 1978, as amended, and the GDPR, you have the right to access, query, limit, transfer, modify, correct, and erase your personal data. You may also object at any time to the processing of your personal data. You can exercise these rights by sending us an e-mail to the following address: dataprotection@sepro-group.com or by writing to SEPRO ROBOTIQUE SAS, Henry Bessemer Street, ZI Acti-Est, CS 10084, 85003 La Roche Sur Yon, and including a copy of their signed identity document.