The Sepro Group factory, a "Window to the Industry of the Future"!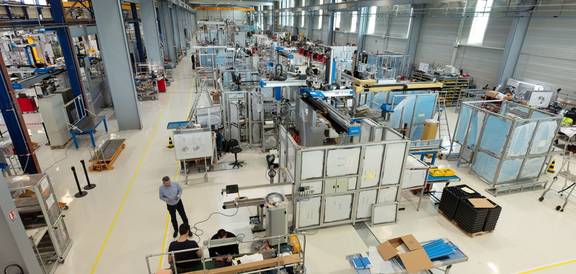 The Board of Directors of the Alliance Industrie du Futur (AIF), chaired by Bruno Grandjean, has awarded the "Industry of the Future" label to the Sepro Group. This label highlights companies that have developed concrete projects that demonstrate innovation in production organization, with emphasis on the use of digital technologies and the place accorded to human values.
Since 2015, the "Industry of the Future" label has been awarded upon nomination by an ad hoc committee of the AIF and approval by the Board of Directors to manufacturers who exhibit the highest levels of commitment to their transformation. To date, 86 companies have received the "Industry of the Future" label from AIF. Sepro Group constitutes one of the 7 companies awarded the label today.
The "Industry of the Future" award recognizes Sepro Group's commitment to the industry's transformational process. In particular, our "white plant," a futuristic customer-focused organization founded on human values and digital services, exemplifies the engagements rewarded by this label.
Total transformation of the environment and customer-centric working methods
The transformation of Sepro Group's production facilities has been necessitated by Sepro's growth as well as its ambitious development plans for the coming years, particularly in Asia.
"With a production capacity of 5000 robots, Sepro Group's manufacturing plant is an industrial tool whose effectiveness is demonstrated each and every day. Our industrial methods are highly advanced: by transitioning from individual assembly of special machines to the mass production of robots, Sepro Group has managed to double its production in 5 years, " explains Sepro Group Industrial Operations Director Arnaud Bourgeais.
"Producing only in France and exporting 85% of our robots to 42 different countries around the world is a real challenge. Our white plant makes up part of a group of initiatives that are allowing us to respond to this challenge. Our new organization enables us to work with greater speed and efficiency while optimizing quality in order to satisfy our customers, " comments Xavier Lucas, Global Sales Director and member of the Executive Committee at Sepro Group. "The customer is at the center of our concerns, and today our plant has become the company's main showroom. All employees can be proud of the work they have accomplished. Besides this showroom factory, we are also rolling out a digital strategy featuring new Industry 4:0 services. We recently developed the Live Support application that significantly reduces machine downtime, even when located on the other side of the world. This interactive connected app is available on all smartphones. We also offer OptiCycle, another app that aims to standardize and significantly improve robot cycle times. In parallel, we are working on a brand new electronic control system that will enable our customers to benefit from new digital services and make a wide range of data available to their manufacturing plants. This is what we call Smart Data. Analysis of this data in real time will allow our customers to achieve even greater levels of performance."
The "White Plant" Concept
The "white plant" concept has allowed Sepro Group to improve the quality and security of its operations, transforming the plant's organisation in depth and making production more participative.
The "white plant" is defined by 8 principles:
TIDY: Nothing on the shop floor,
WELL-LIT: Appropriate lighting, for better production and to avoid poor quality,
WHITE: Floors, walls and equipment either white or light-colored,
CLEAN: Prompt and responsive cleaning to avoid contaminants,
VISIBLE: Nothing is hidden, everything is clear and readable for greater efficiency,
SQUARE: Vertical and horizontal alignment on a Cartesian plane,
PROFESSIONAL: Standardized and elegant on the first try,
RESPECTFUL: Care is provided to our people and products alike, to deliver perfect products to customers.
Implementing the "white plant" at Sepro therefore consisted of not only reorganizing robot production but also organizing production in a more humane way, with more autonomous and interconnected teams.

In general, Sepro Group pays very special attention to the working environment of its staff. The different operators in the value chain are made responsible for the collective resolution of problems and in particular for the identification of abnormalities. This focus allows Sepro Group to foster the working conditions that promote cross-functional exchanges, while keeping the customer at the center of all decisions.
Stay connected
Receive a summary of our news and events every month